Iași is an important economic centre in Romania. The local and regional economy relies on service sector institutions and establishments. The most important service sectors are related to education, health care, banking, research, culture, government and tourism.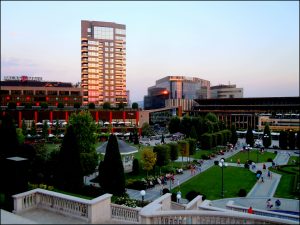 The city is an important information technology sector centre, with the presence of several large multinational companies (Amazon, Oracle, Continental, Xerox, Accenture, Capgemini) and many other local and foreign companies such as Bentley Systems, Bitdefender, Comodo, Endava, Ness, Pentalog, SCC orTiVo (to name a few), as well as two universities which offer specific degree programs. Industry forecasts expect the Iași ITC workforce to grow from the current 12,000 (as of 2016) employees to more than 33,000, by 2030.
An estimated workforce of more than 35,000 employees is active in Iași's industrial manufacturing sector, particularly in automotive (Delphi, Lear, Tess Conex), pharmaceutical industry (Antibiotice Iași), metallurgical production (ArcelorMittal, Technosteel LBR), industrial equipment (Agmus, ASAM, Fortus), energy (E.ON Moldova Distribuție, Veolia Energie), textiles and clothing (Benetton, Iași Conf, Iașitex), home appliances (Tehnoton), building materials (Brikston, Build Corp), food (Compan, Panifcom, Zeelandia)
Located in an area recognised for its vineyards and wines, Iași is part of a traditional wine region with viticultural centres surrounding the city: Copou, Bucium, Uricani, Comarna, Plugari, and Probota. Iași County is also home to renowned Cotnari and Bohotin vineyards.