Iaşi features historical monuments, 500-year-old churches and monasteries, contemporary architecture, many of them listed on the National Register of Historic Monuments. Notable architecture includes the Trei Ierarhi Monastery, part of the tentative list of UNESCO World Heritage Site, or the neo-Gothic Palace of Culture, built on the old ruins of the medieval Princely Court of Moldavia.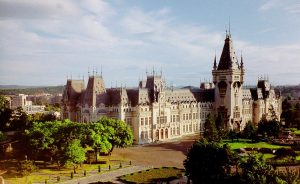 Other significant buildings include:
Alexandru Ioan Cuza University main building (1897), a mixture of the Neoclassical and Baroque styles, houses the famous Hall of the Lost Footsteps where one can admire the works of the painter Sabin Bălașa;
"Vasile Alecsandri" National Theatre, built between 1894 and 1896 in Neoclassic style with Baroque and Rococo inspired painted and sculpted ornaments;

Dosoftei House, a building from the second half of the 17th century in which in 1679, the metropolitan bishop Dosoftei settled the second typography in Moldavia. With three façades, arched and right-angled windows, the edifice was restored between 1966 and 1969. It houses the department of old literature of the Romanian Literature Museum;

Roznovanu Palace (The City Hall), second half of the 18th century, rebuilt between 1830 and 1833, during World War I, it hosted the Romanian government;
Union Museum, 1806, Empire style, the palace served as the royal residence of Prince Alexandru Ioan Cuza between 1859 and 1862 and in 1917–1918, during World War I, as the royal residence of king Ferdinand;
Pogor House, 1850, a meeting place for the city intellectuals, the headquarters of Literary Society Junimea (1863) and of the Convorbiri Literare (Literary Interlocutions) magazine (1867), houses the Romanian Literature Museum;
Luceafărul Theatre, 1987, a unique modern building in Romania;
Central University Library, 1934, incorporates Greek Revival elements;
Great Railway Station, 1870, inspired by Venetian Doge's Palace.